Horse Safari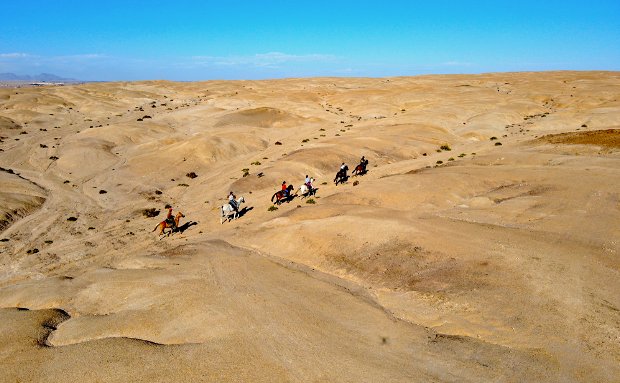 No hour of life is wasted that is spent in the saddle! - Winston Curchhil
Join our herd, the Namibian equestrian dreams, where we welcome you as our guest. You are not a tourist!
Bringing the family? Someone does not ride? You are on a journey. They will have an amazing time, and you will ride!
Untamed in so many aspects, this land of endless horizons is rich in cultural, archaeological and biological diversity. Home to numerous UNESCO sites, this is a nature and wildlife paradise. Here you are able to enjoy these vast contrasts of our safari styles, with one difference - you will be riding a horse in each of our most iconic areas, all while enjoying the countries highlights.
See the whole of Namibia, and fill your passion of the equestrian dream at our niche properties, offering you a different style of Namibia. The style of being on the back of a horse.
We love horses! Horse safaris are something which just give you a much truer sense of being at one with the wild. This is where the development of our Equestrian Dream safari was born. A passion for horses, and riding.
Family, friends, and teams are just as important, any equestrian will know. So, when they go with us and do not ride, we cater fort hem. The key sense of adventure is what we are offering in the true sense of experience.
And just like that, off we set throughout the country, selecting some exquisite properties where you will travel to and experience horseback magic. What makes us different? You get to have a real journey of adventure, nature, wildlife, culture and true Namibian spirit, whilst being able to enjoy being in the saddle as well.
Canter into the sunset alongside antelope, walk past Rhinos and watch sunsets in the bush or on the red dunes of the Kalahari. You circle around the country and journey to some of our most magical highlights, individually curated to give you a lasting memory of having been part of our Namibian herd, the About Africa equestrian herd.
Your travel style is befitting to how you feel most comfortable, from self-drive, guided to in an aircraft.
Better yet? How about some individual experiences along the way which fit your own personal dreams, beside horses of course.
Individualism is key, and we set the standard - the journey begins here!
Giddy up... 
There is something for everyone!